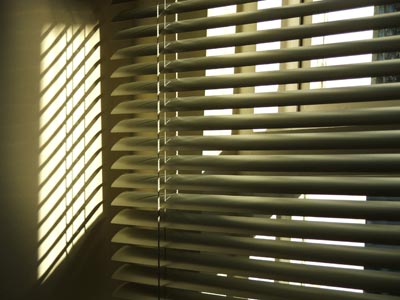 Venetian blinds attract dust and need to clean regularly. It is good to clean Venetian blinds with feather duster every week. This can ensure your air quality is good. If your Venetian blinds become sticky and oily then you might consider some deep cleaning methods.
Actually, it's tricky to clean Venetian blinds as it has different material range from aluminum, wooden, faux wood, vinyl, and etc.
To clean Venetian blinds using the deep cleaning methods follow the steps below:-

Remove the slats from the tracking (refer to your venetian blinds manual on how to remove the slats)
Soak all the slats into warm water with mild cleaning detergent for 5 to 10 minutes
Grub gently with cleaning sponge or soft cleaning brush to remove the grime
Once the grime is removed from the blinds, rinse it with clean water until it's clean.
Put the blinds to dry outside the house on a large clean towel during summertime. However, during winter time, dry it with a clean tower.
Once the blinds is dried, return the blinds to it's hanging position.